Heavy Metal and Reflective

Azealia Banks

Released
July 28, 2014
Recorded
2012
Length
2:37 (Album Version)

2:31 (Single Version)

Label
Azealia Banks Records
Producer
Lil Internet
"Heavy Metal and Reflective" is a song by Azealia Banks, released as the second single from her debut studio album, Broke with Expensive Taste (2014). It was independently released on July 28, 2014
Music Video
Edit
Banks teased the official music video, directed by Rob Soucy and Nick Ace, on July 25, 2014, and it was released August 5, 2014. The video was filmed earlier that year in the desert outside of Los Angeles.
The music video begins with Banks getting kidnapped and tied to a chair in the desert. She sits for awhile, rapping some verses. Clips of motorcyclists appear as she wiggles her way out of the ropes. Banks said that this scene was "symbolic of [her] getting off [her old] label." Later, we see Banks as a speedway woman for the motorcycle race that is happening. In another scene, she is in the center of the scene as the motorcyclists circle around her. She is also seen with pit bulls barking at the camera as the motorcyclists are in the background. In the end of the video, she is seen walking away from the camera as the scene fades to black.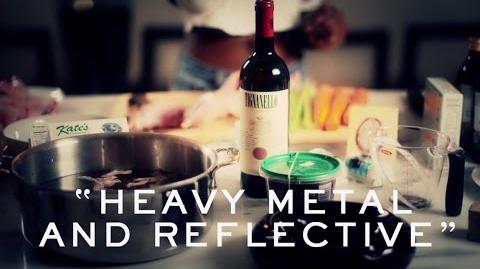 Track Listing
Edit
1. "Heavy Metal and Reflective" (explicit) - 2:31
2. "Heavy Metal and Reflective" (clean) - 2:30
Ad blocker interference detected!
Wikia is a free-to-use site that makes money from advertising. We have a modified experience for viewers using ad blockers

Wikia is not accessible if you've made further modifications. Remove the custom ad blocker rule(s) and the page will load as expected.