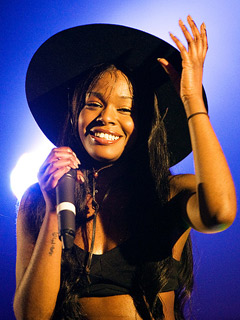 Azealia Banks
is an American rapper and singer.
Her discography consists of one studio album, one extended play (EP), one mixtape, three singles and several guest appearances. Banks signed to Interscope Records and Polydor Records and rose in notability in 2011 when she topped NME's "Cool List" for the year. Her debut single, "212" featuring Lazy Jay, was released on December 6, 2011, later becoming part of her EP "1991". She released her mixtape "Fantasea" in July 2012 and plans to release her debut studio album "Broke with Expensive Taste" in 2013.
Studio albums  
Edit
Cover artwork

Title

Album details

Released: 6 November 2014
Label: Azealia Banks, Prospect Park
Formats: CD, LP, digital download
Cover artwork
Title
Album details
Peak positions
Sales
Certifications
US
US
R&B
US
Rap
AUS
Urban
IRE
UK

1991

Released: 28 May 2012
Label: Interscope, Polydor
Formats: CD, LP, digital download

133
17
12
18
81
79
Mixtapes
Edit
Cover artwork 
Title
Album details

Fantasea

Release: 11 July 2012
Label: Independent
Format: Digital download,CD
Ad blocker interference detected!
Wikia is a free-to-use site that makes money from advertising. We have a modified experience for viewers using ad blockers

Wikia is not accessible if you've made further modifications. Remove the custom ad blocker rule(s) and the page will load as expected.