Broke with Expensive Taste
Comments

0
85pages on
this wiki
Broke with Expensive Taste is the upcoming debut studio album by American hip hop artist Azealia Banks. It is slated for a 2013 release through Interscope Records in the United States and Polydor Records in the United Kingdom. Banks said on Twitter March 21st that she will be leaking the album 15th April. As of April 20th, no songs were leak whatsoever but a tumblr page , dedicated to leaking songs (known for leaking Lady Gaga's Swine and Donatella) stated that they will leak Azealia's album if audience showed any interest in it.
In 2012, Banks released her debut EP titled 1991 to high praise and acclaim, comprising four songs including her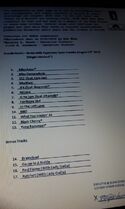 breakout records "212" produced by Lazy Jay and "Liquorice" produced by Lone. Earlier in 2013, Banks took to Twitter and SoundCloud to release the first promotional single from Broke with Expensive Taste, titled "BBD". Thealbum will have 13 songs on the standard edition and 16 on the deluxe edition. The deluxe was origionally supposed to have 17 tracks but "BBD" was cut from the final product.[1]
Azealia Banks confirmed on April 12, 2013 that the tracklisting were to be revealed two weeks from that date. However it was never released.
On May 12, 2013, an unofficial tracklist of the album was leaked. The tracklist was confirmed fake, by the picture itself.
"Miss Amor " was originally intended to be the lead single from "Broke with Expensive Taste", with the B-side "Miss Camaraderie".On January 28, 2013, Azealia Banks revealed that "Yung Rapunxel" will replace "Miss Amor " as the lead single. Later Banks revealed that "Miss Amor " and "Miss Camraderie" will still be on "Broke with Expensive Taste".
"ATM Jam " (feat. Pharell) was released as the second single from the album. However, due to negative comments from fans and Azealia herself, the song was removed from the album.
"Heavy Metal and Reflective " was released as the album's second official single on July 28, 2014.
"Chasing Time" was released as the third official single from the album on September 22, 2014.
Confirmed Tracks
Edit
"Wallace"
"JFK" Ft Theophilus London
"Lux n Plush"
"Chasing Time" Ft Busta Rhymes
"Soda"
"Blossom"
"Luxury"
"Idle Delilah"
"Ice Princess"
"ATM Jam" Ft Pharrel - Note: Removed due to not selling well.
"BBD"
"Gimme A Chance" Ft Yoko Yasuda
"In Town" Ft Kevin Hussein
"212" Ft Lazy Jay
References
Edit